Donate
April 2018
| Mon | Tue | Wed | Thu | Fri | Sat | Sun |
| --- | --- | --- | --- | --- | --- | --- |
| | | | | | | 1 |
| 2 | 3 | 4 | 5 | 6 | 7 | 8 |
| 9 | 10 | 11 | 12 | 13 | 14 | 15 |
| 16 | 17 | 18 | 19 | 20 | 21 | 22 |
| 23 | 24 | 25 | 26 | 27 | 28 | 29 |
| 30 | | | | | | |
Calendar

ESET NOD32 Antivirus 5
ESET NOD32 Antivirus is particularly useful for home users looking for simple antivirus software. ESET NOD32 Antivirus protects from malware such as viruses, worms, Trojans, spyware and rootkits. Various types of malware use different approaches to infiltrate. Computer viruses, for example, are computer programs that replicate themselves by spreading from computer to computer. Worms take advantage of security vulnerabilities to spread over networks. Trojan horses pretend to be harmless until they arrive at a place where they can do damage. Spyware collects as much as it can gather about your personal identity and online behavior. Rootkits burrow deep into the operating system and assign themselves supervisory control over processes that allow them to hide evidence of the takeover.
In addition to guarding against malware, ESET protects you while you're online. It integrates email protection to scan email (inbound and outbound) for viruses and other malware. It also protects users from auto-running external media (like USB jump drives) by scanning files when the external medium is plugged in. ESET can prevent viruses that are so new that they aren't in the threat database. It scans files in real time as they are opened or executed. And while this ensures malicious files don't cause any problems, it doesn't mean you have to wait before opening a file. The real-time scan happens almost instantly in the background.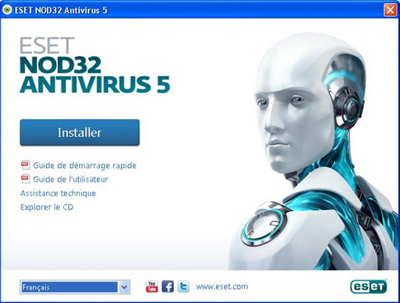 ESET NOD32 Antivirus is one of the easiest antivirus programs to use. In fact, in independent tests conducted by AV-Test, it scores 83 percent in AV-Test's Usability tests for Windows 7. In AV-Test's same Usability tests for Windows XP, ESET scores 92 percent. In addition to being AV-Test Certified, this antivirus software has also passed muster at Virus Bulletin 100, ICSA Labs and West Coast Labs Checkpoint.
Users have no problem navigating the program. The default setup is for beginners. The advanced mode adds functionality without completely alienating standard home users. Scheduling, report logging and adjusting settings are all easy tasks. It can work on its own and doesn't require much intervention. You can tell ESET not to ask for input. Furthermore, there are some keyboard shortcuts for easy navigation. A laptop mode delivers protection without draining your laptop battery. ESET NOD32 Antivirus can create a bootable disc (or USB drive) in case of emergency.
Summary
:
ESET NOD32 Antivirus may not be the most popular antivirus software but it delivers comprehensive antivirus protection. Independent test labs find it easy to use. It protects from malware by comparing suspect files to its known list of threats. It also examines files that seem threatening to see if they are dangerous even if they aren't in the list of known threats yet. The software protects you from email threats and external media. If you switch to battery mode on a laptop, the software adjusts its behavior so that non-essential activities are curtailed until the laptop is plugged in. In case any malware penetrates the barriers and collapses a system, the product enables creation of a bootable disk or USB drive that will disinfect the PC and restore it to health.
Key Benefits
Keeps you safe from viruses, spyware, trojans, password stealers and other malware threats
Stops most new threats proactively, well before other vendors have issued a signature, maximizing your defense against new and unknown threats
Scans and cleans Internet traffic and email, even when it's SSL-encrypted, so your email is always safe
Stops threats from entering through removable devices so you can share files with confidence
Integrated SysInspector and SysRescue simplify system diagnosis and recovery
Self defense prevents malware from degrading your level of protection
Tiny signature updates happen discretely as needed and won't bog down your system
Free technical support via the Web, email or phone
System Requirements
Processors supported: Intel or AMD x86-x64
Operating Systems: Microsoft Windows 7 (32- and 64-bit editions), Microsoft Windows Vista (32- and 64-bit editions), Microsoft Windows XP (32- and 64-bit editions), Microsoft Windows 2000
Memory: 44 MB
Disk Space (download): 28 MB
Disk Space (installation): 35 MB
http://adf.ly/8nTqY
OR
http://adf.ly/8nbCY
_______________
VOIC
E5SUR5
Admin





Messages

: 583


Date d'inscription

: 2012-05-04


Age

: 37




---
Permissions in this forum:
You
cannot
reply to topics in this forum