Donate
April 2018
| Mon | Tue | Wed | Thu | Fri | Sat | Sun |
| --- | --- | --- | --- | --- | --- | --- |
| | | | | | | 1 |
| 2 | 3 | 4 | 5 | 6 | 7 | 8 |
| 9 | 10 | 11 | 12 | 13 | 14 | 15 |
| 16 | 17 | 18 | 19 | 20 | 21 | 22 |
| 23 | 24 | 25 | 26 | 27 | 28 | 29 |
| 30 | | | | | | |
Calendar

Primo Ramdisk Server Edition 5.6.0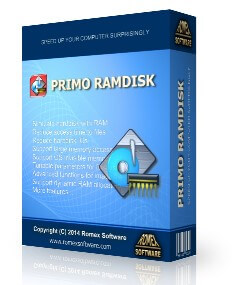 Primo Ramdisk is the successor to the popular VSuite Ramdisk product. It brings new features and improved performance, as well as a friendlier user interface. As VSuite Ramdisk did, Primo Ramdisk also provides a solution to speed up your computer by overcoming current hard disk bottleneck issue. It allows you to emulate hard disks using available physical memory. Because the access speed of physical memory is so much faster than most kinds of storage, this greatly speeds up your computer with reduced access time to files, which in turn, shows a huge improvement in overall performance. Primo Ramdisk features a host of powerful functions and options maximizing performance and applicability. It can be widely used in many scenarios, especially on network servers, 2D/3D designs, mass data processing systems, and more.
Main Feature List
Disk Features
-- Supports ramdisk, hybrid-disk, and file-disk.
-- Supports SCSI disk, Direct-IO disk.
-- Supports one-time virtual disk.
-- Supports up to 128 virtual disks.
Memory Features
-- Supports Dynamic Memory Management (DMM).
-- Supports Unified Invisible Memory Management Interface (UIMMI).
-- Supports to access memory above 4 GB.
File System Features
-- Supports FAT/FAT32/NTFS file systems.
-- Supports user-defined cluster size.
-- Supports user-defined volume label, serial number and drive letter.
-- Supports user-defined folders.
-- Supports user-defined NTFS file system settings (compression, indexing, and permission).
Image File Features
-- Supports image file format: Plain/Smart/Compressed Image.
-- Supports load/save functions:
Load Only, Save at Shutdown, Save Before Removal, Timing Save, Real-time Save, and Manual Save.
-- Supports Delay Load mode.
-- Supports Quick Save mode.
Other Features
-- Supports system paging files.
-- Supports multilingual user interface.
-- Integrates mini tools to easily utilize virtual disks.
Changelog:
Support command line interface (CLI).
Support mounting the image files on-the-fly.
Support rebuilding the disk with new settings.
Fix bug: Drive letter may be changed when changing the disk type from Direct-IO to SCSI.
Fix bug: Program hangs while saving the image file, if last saving was not successful.
Fix bug: Hybrid-disk may occupy lots of memory while copying large files in Windows Server 2003 R2.
Language: English, Simplified Chinese (????), Traditional Chinese (????), French (Francais), Russian (?onneee), Spanish (Espanol), Polish (Polski) and Korean (???).
IN: All versions of Windows Server 2008 R2, Windows Server 2008, Windows Server 2003 R2, Windows Server 2003, Windows 7, Windows Vista, Windows XP, including x86 and x64 editions.
http://adf.ly/IF1Oz
OR
http://adf.ly/IF1Ya
OR
http://adf.ly/IF1gs
OR
http://adf.ly/IF1qv
OR
http://adf.ly/IF1xf
OR
http://adf.ly/IF28W
OR
http://adf.ly/IF2H8
OR
http://adf.ly/IF2SB
OR
http://adf.ly/IF2Z2
OR
http://adf.ly/IF2hv
OR
http://adf.ly/IF2hv
_______________
VOIC
E5SUR5
Admin





Messages

: 583


Date d'inscription

: 2012-05-04


Age

: 37




---
Permissions in this forum:
You
cannot
reply to topics in this forum