Donate
June 2018
| Mon | Tue | Wed | Thu | Fri | Sat | Sun |
| --- | --- | --- | --- | --- | --- | --- |
| | | | | 1 | 2 | 3 |
| 4 | 5 | 6 | 7 | 8 | 9 | 10 |
| 11 | 12 | 13 | 14 | 15 | 16 | 17 |
| 18 | 19 | 20 | 21 | 22 | 23 | 24 |
| 25 | 26 | 27 | 28 | 29 | 30 | |
Calendar

AutoCAD 2013
The newest release of AutoCAD, codenamed "Jaws" was released March 27, 2012.
This is the 27th version of AutoCAD.
Previous AutoCAD version AutoCAD 2012.
AutoCAD 2013 is also referred to as ACAD2013 or ACAD 2013.
New and/or enhanced functions
Still missing. Wish list for the next time.
Existing bugs
Removed
Tips & Tricks
Readme and FAQ
Updates & Service Packs
Cascading Sequences for Autodesk 2013 Products
Links
New and Updated Commands
Removed or Obsolete Command and System Variables
New and Updated System Variables
AutoCAD 2013 training video
AutoCAD 2013 SP1
AutoLISP and VBA Security Controls in AutoCAD 2013 SP1
AutoCAD 2013 Service Pack 1.1
JTB World's software compatible with AutoCAD 2013
New and/or enhanced functions
File format
Command Line Enhancements
Hatch Editor
Array Enhancements
In-Canvas Property Preview
Layout and Model Viewports
Point Cloud Support
PressPull
Strike-through Text
Font Lists
Bring Leaders to the Front
Wipeout Frame
Reverse Polyline Widths
Offset Preview
Snap Behavior
External References
Export Layout
Double-click Actions
Inventor Import
Surface Curve Extraction
Autodesk Exchange Apps
Cloud Connectivity
Render Online
Language Packs
Model Documentation
Migration
Template updated
Social Media Links
Deployment/setup
API and more for Programmers
AutoCAD 2013 System Requirements
File format
New file format "AutoCAD 2013 Drawing" is used.
AutoCAD 2013 introduces a new file format that includes changes to the thumbnail preview file format, as well as new controls for graphics caching.
Thumbnail previews in the new AutoCAD 2013 DWG file format are now stored as PNG images, providing higher-quality thumbnail previews in a smaller file size. Image resolution is still controlled by the THUMBSIZE system variable. However, the maximum valid value has increased from 2 to 8. If you do not wish to include thumbnail previews in the drawing you can still use the RASTERPREVIEW system variable (or the new THUMBSAVE) to disable them. Note that only 3D drawings make use of a larger thumbnail. The UPDDATETHUMBSNOW and UPDATETHUMBNAIL system variables are no longer needed and have been removed from AutoCAD 2013.
When you save a drawing containing 3D Solids in the new AutoCAD 2013 file format, a graphics cache file is automatically stored in a folder named "GraphicsCache" under your user app data folder. Two new system variables, CACHEMAXTOTALSIZE and CACHEMAXFILES, enable you manage the cache files.
Command Line Enhancements
The command line has been enhanced. Color and transparency can be changed. It works better as undocked and can be made smaller. It features a semi-transparent prompt history that can display up to 50 lines.
Hatch Editor
Editing multiple hatch objects can now be done using the contextual
Hatch Editor ribbon tab.
Array Enhancements
Several enhancements, ease of use and new grips.
In‐Canvas Property Preview
When selecting objects and making changes of properties like color and transparency a preview is seen directly in the drawing.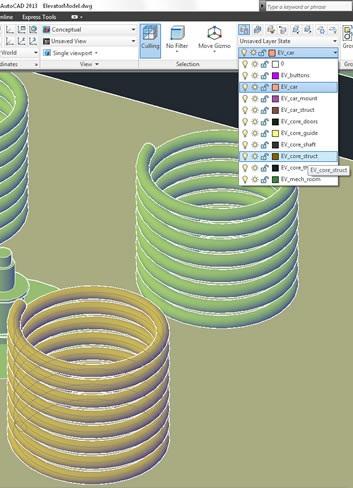 Layout and Model Viewports
The viewports panel on the ribbon is renamed to be specific to Model Viewports or Layout Viewports. Model Viewports are accessible from the View ribbon tab and are relevant when creating viewports in model space. Standard model space viewport configurations are easily accessible from a drop-down menu. Layout Viewports are accessible from the Layout ribbon tab and are relevant when creating viewports
on a layout.
Point Cloud Support
Attach and manage point cloud files in same way as with xrefs, images, and other externally referenced files.
The Attach Point Cloud dialog box has been updated to provide a preview image and detailed information about the selected point cloud.
There is a new contextual Point Cloud ribbon tab appears with all the necessary Point Cloud tools when a Point Cloud is selected.
A new bounding box appears when you select a point cloud (making it easier to visualize its position in 3D space).
If intensity data is included, you can use the analysis tools to view point intensity with different color schemes.
Point Clouds can be clipped. Additional options enable you to specify whether the bounding box is displayed and provide easy access to the External References manager.
The Properties palette is updated to include new point cloud properties such as intensity and clipping.
Point cloud indexing is significantly enhanced in AutoCAD 2013 to provide a smoother and more efficient workflow when working with raw scan files. You can index scan files from major industrial scanner companies, including Leica and Topcon in addition to Faro.
The new Create Point Cloud File dialog box provides an intuitive and flexible interface to select and index raw point scan files. You can select multiple files to batch index and even merge them into a single point cloud file. When creating PCG files, you can specify various Index settings, including RGB, Intensity, normals, and custom attributes.
When you save from AutoCAD 2013 to an older version DWGTM file, a message alerts you that the attached PCG file will be re-indexed and degraded to be compatible with the previous version of the drawing file format. The new file is renamed to a corresponding incremental file name.
32 BIT
http://adf.ly/Cwd5e
http://adf.ly/Cwgjh
http://adf.ly/Cwgly
http://adf.ly/Cwy2c
http://adf.ly/CxeBb
http://adf.ly/Cxu9Q
http://adf.ly/D7Q8N
http://adf.ly/D7QC7
http://adf.ly/D7QD9
http://adf.ly/D7QGh
http://adf.ly/D7QKg
OR
http://adf.ly/DDjOT
http://adf.ly/DDjRf
http://adf.ly/DDjTE
http://adf.ly/DDjUo
http://adf.ly/DDjVx
http://adf.ly/DDjWp
http://adf.ly/DDjXw
http://adf.ly/DDjZc
http://adf.ly/DDjbD
http://adf.ly/DDjcU
http://adf.ly/D7QKg
http://adf.ly/DDjeJ
http://adf.ly/DDjgE
64 BIT
http://adf.ly/DL9vT
http://adf.ly/DL9wa
http://adf.ly/DL9xR
http://adf.ly/DL9yV
http://adf.ly/DL9zM
http://adf.ly/DL9zo
http://adf.ly/DLA0h
http://adf.ly/DLA1T
http://adf.ly/DLA2H
http://adf.ly/DLA3I
http://adf.ly/DLAM3
_______________
VOIC
E5SUR5
Admin





Messages

: 583


Date d'inscription

: 2012-05-04


Age

: 37




---
Permissions in this forum:
You
cannot
reply to topics in this forum